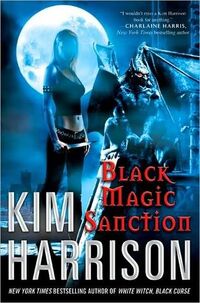 Black Magic Sanction is the eighth book in The Hollows series. It was published on February 23, 2010.
As punishment for using black magic, Rachel is facing life inprisonment as a best case scenario...her worst case scenario is lobotomization and genetic slavery. The key to her future is in her enemies: Algaliarept and Trenton. Can she trust them? Does she even have a choice?
Ad blocker interference detected!
Wikia is a free-to-use site that makes money from advertising. We have a modified experience for viewers using ad blockers

Wikia is not accessible if you've made further modifications. Remove the custom ad blocker rule(s) and the page will load as expected.